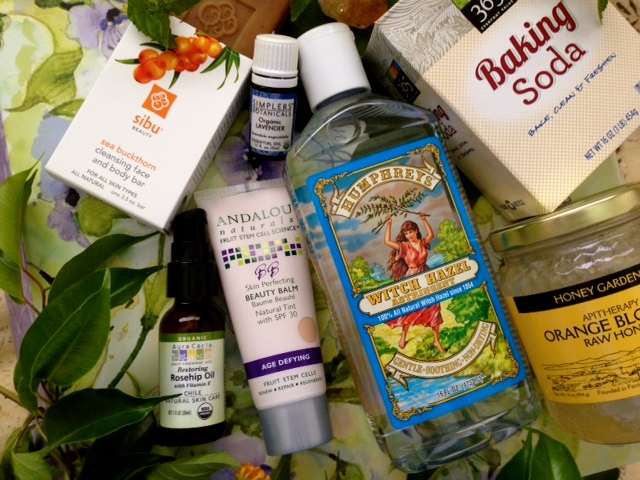 When switching to organic, natural skincare products, one can become time consumed figuring out which products work (not being familiar with brands) and seeing the hefty price tags ranging from cleansers, toners, serums, moisturizers, spf, masks, exfoliants, etc. There are many natural and organic options that are budget friendly and require a one stop to the kitchen and other to a health food store or an online retailer. I have experimented with many various skincare products through the years and have chosen to give y'all the best options that I have come across for ALL skin types! I will share with you some tips and tricks how to tweak your skincare regime a bit based on your skin type on the products I'll be discussing.
1. (CLEANSE) SIBU: Sea buckthorn soap ($5.56) – I love this soap and use it religiously, especially in the evenings because it's tough on getting all the makeup off but soft on the skin- will not dry skin out. It has a soft citrusy scent (not overpowering in the least) and can be used 2X day. This is great for all skin types because the sea buckthorn ingredient contains powerful antioxidants to revitalize and nourish the skin, while calming sensitive, blemish prone complexions. It has anti-bacterial properties as well. Skin never feels dry after washing; therefore, it's excellent for dry skin types.
Ingredients: Sodium Palmate, Sodium Palm Kernelate, Water (Aqua), Glycerin, Hippophae Rhamnoides (Seabuckthorn) Fruit, Avena Sativa (Oat) Kernel Flour, Citrus Medica Limonum (Lemon) Peel Oil, Citrus Reticulata (Tangerine) Peel Oil.Under 1% after this: Sodium Chloride, Sodium Citrate, Soymilk Powder, Hippophae Rhamnoides (Seabuckthorn) Leaves, Tetrasodium Glutamate Diacetate, Citric Acid, Titanium Dioxide (CI 77891)
2. (TONE) Humphrey's Witch Hazel Astringent ($6.49) – Witch hazel contains amazing benefits for our skin such as calming rashes, acne, minimizing pores and wrinkles, softening fine lines and much more. Witch hazel goes back to our great, great grandmother's era where they would use this on their skin to retain beauty and health. This makes 'THE' perfect toner/astringent and is cost effective! Some toners that are of organic origin and contain many powerful herbs and flower extracts from natural and green lines are quite costly! Personally, witch hazel is a no brainer for me to tone my skin in the mornings and evenings.
3. (MOISTURIZE) Aura Cacia Organic Rosehip oil w/ Vitamin E ($8) – Oils for the face have been a raging trend in the recent years, and for a good reason – They work! However, with all the different oils on the market ranging from Argan, Maracuja, Jojoba, Marula, Coconut, etc., – how does one to choose which one is the absolute best? Apparently, Miranda Kerr (Victoria Secret's leading model) has figured out the answer – Rosehip oil! Rosehip oil is very moisturizing but light at the same time; therefore, all skin types benefit.
For normal to dry skin, I recommend applying rosehip oil 2X day. However, if you have combo to oily skin, applying in the evenings is the best route, because face can become too oily during the day if applied in the mornings. However, feel free to experiment if your skin can handle oils during the day.
Rosehip is a powerful antioxidant that protects our body from free radicals. Free radicals cause oxidative stress that leads to "cell debris" in the body and a variety of diseases. Rosehip oil is a rich source of bioflavonoids, pectin, vitamin E, selenium, manganese, and vitamin B. Rosehip also contains vitamin C, vitamin A, calcium, iron, magnesium, phosphorus, potassium, sulfur and silicon. Basically, all essential nutrients that skin can ask for!
4. (TREAT) Simplers Botanicals Organic Lavender Essential Oil ($9.33) – If you have oily or acne prone skin, organic lavender oil is essential to add to a carrier oil (jojoba, coconut, argan, etc.). In this case, the carrier oil is rose hip. One pump of Aura Cacia rose hip in the palm of your hand, followed with 2 drops of organic lavender oil. Apply to clean skin in the evening as your moisturizer. Lavender oil has amazing anti-inflammatory properties that calms skin from irritations, such as acne and even insect bites. Its perfect for oily skin because it balances and reduces overproduction of sebum. If you see a pimple rising up, apply a drop to effected area and leave overnight. A better and more effective option than the ever-famous tea tree oil.
5. (SPF) Andalou Naturals Skin Perfecting BB Cream SPF 30 ($17.65) – BB creams are designed to moisturize, provide skin nurturing ingredients, SPF, prime for makeup wear, and even out skin tone. Andalou Naturals BB cream under age-defying category, provides all of the components just mentioned for your lovely skin health! It's very budget friendly for a natural BB cream with Fruit Stem Cell Science technology, featuring aloe vera, apple + grape stem cell cells, and bioactive 8 berry complex.
The bb cream is light, non greasy, moisture rich, and provides just a light tint of color that is suitable for most fair to medium complexions. It's perfect to wear on it's own for sheer, even coverage, or under foundation for a polished and primed look.
Ingredients: Aloe Barbadensis Juice*, Simmondsia Chinensis (Jojoba) and Helianthus Annuus (Sun_ower) Oils*, Sorbitan Stearate, Glyceryl Stearate, Fruit Stem Cells (Malus Domestsica, Solar Vitis) and BioActive 8 Berry Complex*, Resveratrol, Ubiquinone (CoQ10), Caprylic/Capric Triglycerides, Cocos Nucifera (Coconut), Borago Of_cinalis (Borage) and Rosa Canina (Rosehip) Oils*, Algae and Cucumis Melo (Melon) Extracts, Magnesium Sulfate, Zea Mays (Corn) Starch*, Camellia Sinensis (White Tea), Aspalathus Linearis (Rooibos) and Hibiscus Sabdariffa Extracts*†, Tocopherol (Vitamin E), Iron Oxide, Phenethyl Alcohol, Ethylhexylglycerin, Citrus Aurantium Dulcis (Orange) and Citrus Tangerina (Tangerine) Oils*
Non-GMO verified    *Organic    † Fair Trade
6. (EXFOLIATE) Baking Soda – This simple, yet effective kitchen staple exfoliates and helps to remove dead skin cells on the surface of skin making face appear fresh, and baby soft! A great step to prep the skin before a moisturizer and SPF. Baking soda can used as a much cheaper dupe for my beloved, One Love Organics Micro Derma Scrub (reviewed). However, please note, baking soda should NOT be used daily on skin because some individuals can experience sensitivities such as redness, some rash, etc.
I recommend using 2X a week only! You can adjust depending on your skin type. This is an amazing and natural exfoliant; however, if you have sensitive or rosacea skin, I would not recommend.
7. (MASK/ REPAIR) Raw Organic Honey – Honey is the ultimate tool for beautiful skin! It makes an effective mask that provides great results – FAST! It's absolutely perfect for ALL skin types, whether you have sensitive, oily, blemish prone, mature, combo, dry, etc. The anti-bacterial properties calm any inflammation and can provide fast healing to any active blemishes. Honey provides nourishment, moisture, and shrinks pores due to the natural sugar properties. Mature skin benefits from honey, thanks to the powerful antioxidants in natural and pure form. Just apply thickly for 20 minutes, then rise. Follow with rose hip oil for extra dose of moisture. Always purchase raw and organic brands to ensure the most potent and natural honey is applied to the face.
**All items may be purchased here for easy process.
Which natural skincare and DIY recipes are your faves? Share below!