Turmeric has been getting a lot of recognition in the very recent years here in the US due to its powerful anti-oxidant and anti-inflammatory properties. The active ingredient in turmeric root is curcumin, which is what gives curry its yellow color and is used in India and Asia in cooking.
Turmeric is completely caffeine free, which makes it a nice and relaxing beverage in the evenings. The ground turmeric powder can be used to make a delicious latte with a choice of milk and sweetener! Very reminiscent of a chai latte, but with a more zesty/ peppery aftertaste (see recipe below post).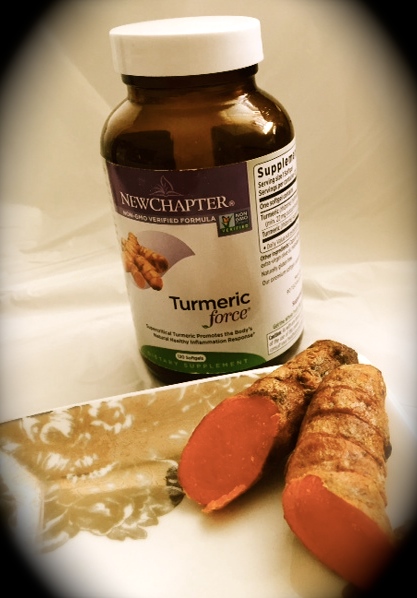 *My complexion has improved dramatically from post acne marks and acne in general since starting to include turmeric supplements from the brand (New Chapter) in the above photo. It detoxifies the liver resulting in clear skin by pushing and eliminating the waste that accumulates in the liver.*
Turmeric has been recognized for preventing cancer cells from growing and forming. Starting on ingesting turmeric is never too early. The wonderful part about turmeric is that it can be ingested through supplement form, drank as tea, or used in cooking.
I take my turmeric in a vitamin form every morning and sometimes seep the actual root in hot water and sweeten a bit with some organic honey for a spicy and sweet tea.
Where to find?
Turmeric can be found in many grocery stores sold as an orange root in the produce section. Some ethnic and Middle Eastern markets carry turmeric as a ground spice to be used in cooking and in preparation of curry dishes. It is also sold in a vitamin/ tablet form.
**Amazon.com carries New Chapter brand at a cheaper price that I recommend and intake daily.
Benefits of Turmeric:
Turmeric started to be used in India over 2,500 years ago; it was originally used as a dye. The healing properties of this spice have been found later.
Natural detoxifier of the liver.
The antiseptic and antibacterial properties of turmeric make it a beautiful natural disinfectant for cuts and burns.
Turmeric is a natural painkiller. Great for taking it when you have a headache or even a toothache!
Helps speed up the metabolism of fats, thus contributing to weight loss.
Speeds up healing and helps in the reconstruction of damaged skin tissue.
Has long been used in Chinese medicine for the treatment of depression.
Powerful natural anti-inflammatory that works as many anti-inflammatory drugs, but without side effects.
The use of turmeric prevents melanoma (skin cancer) and helps to kill the existing melanoma cells.
Turmeric can prevent and slow the progression of Alzheimer's disease by removing plaque amyloid accumulation in the brain.
The use of turmeric reduces the risk of leukemia in children.
The use of turmeric can prevent the emergence of metastases appearing in various forms of cancer.
Thanks to its anti-inflammatory properties, turmeric is a natural remedy for treating arthritis and rheumatoid arthritis.
There are suggestions that turmeric has a positive effect on patients with pancreatic cancer and multiple myeloma.
Helps suspend the growth of blood vessels in tumors.
The use of turmeric may help in the treatment of psoriasis and other inflammatory skin diseases.
Recent studies have shown that the use of turmeric in combination with cauliflower helps prevent prostate cancer, and even stop the growth of existing prostate cancer.
Studies in mice have shown that the use of turmeric helps prevent the spread of breast cancer to the lungs. It also slows the progression of multiple sclerosis in mice.
---
Turmeric Latte Recipe
Serves 1
1 cup almond milk or other milk of choice
1 tablespoon fresh grated turmeric or ground turmeric powder
1 teaspoon cinnamon
Raw honey, coconut sugar, maple syrup or stevia
---
On low heat, warm up milk in a small saucepan. Whisk in turmeric and cinnamon until well blended. Do not over boil. Turn off the heat and add some honey (preferably manuka honey), coconut sugar, maple syrup or stevia for sweetness.
Enjoy!
Contraindications:
If you are pregnant, you should not use turmeric – it can have a stimulating effect, be sure to consult with your doctor. In addition, individuals with a ginger allergy should avoid turmeric as it comes from the same family.