Soapwalla Deodorant Cream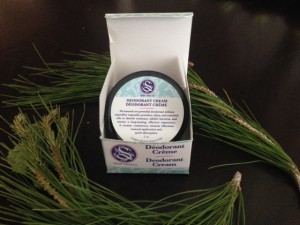 Finding a natural deodorant with clean ingredients that actually performs in a challenging environment is a serious business! Most natural, non-toxic deodorants that I've tried have always underperformed on my day to day busy schedule. Most have left me wet and sweating more after only two hours of wear. Although, sweating is a completely natural state, which allows your pores to breathe through the underarm area and should never be blocked off with antiperspirants that usually contain toxic ingredients such as the aluminum in various percentages (ranging anywhere from 8% to a whopping 18%), which prevents perspiring. Some medical studies have shown that absorbing aluminum along with other paraben based ingredients in leading antiperspirants/deodorants may cause cell changes along the breast tissue, which may lead to cancer.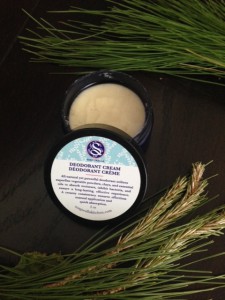 Welcome to the gates of Soapwalla deodorant cream! There is a chance that you just may convert to this silken cream of natural odor protection! The deodorant is cream based and comes in a 2 oz. jar.
Application and Performance
The application was something that I had to get used to for a few days because you would need to take approx. a pea size amount of the cream (per underarm), warm it up in the palm of your hand and apply. However, the results have truly been amazing. I usually sweat quite a bit during the day and chemical laden antiperspirants have only been my saviors to feel fresh. This creamy gem has made me a believer in natural deodorants! Although, this is not marketed as antiperspirant, it has serious ingredients to combat sweat during a long, hot day.
Scents and Other Natural Deodorants
The scent is very herbal and reminiscent of eucalyptus and rosemary. In addition, Soapwalla has come out with a second scented version in a citrus, which I have not tried yet. In the past, I've tried the following natural deodorants that did not perform well; Kiss my Face, Tom's of Maine, Lavanila, Burt's Bees, Crystal Essence, etc. The only other deodorants that was somewhat effective was the Burt's Bees spray deodorant, with oil of sage. However, Soapwalla keeps me dry most of the day and completely odor free. The mix of herbal ingredients is what makes this formula so powerful to battle the stink.
The only con to this product is that it contains baking soda, which is a leading ingredient for natural deodorants because it prevents odor and may cause a rash for some people. I would suggest trying this product every other day until your body becomes used to it. Also, do not apply this product to freshly shaven, epilated, or waxed skin. It will burn due to baking soda and other herbs. The deodorant is priced at $14 and can be found at thedetoxmarket. com. Happy odor free, underarms!
INGREDIENTS
(*: certified organic, +: food-grade)
Simmondsia chinensis (Jojoba) Oil*; Helianthus Annuus (Sunflower) Oil*; Rosehip Seed Oil*; Butyrospermun parkii (Shea) Butter; Corn Starch*+; Sodium Bicarbonate+; Kaolin Clay; Vegan Kosher Glycerin*+; a custom blend of essential oils, including: Lavandula Angustifolia (Lavender)*; Melaleuca Alternifolia (Tea Tree)*; Citrus Sinensis (Sweet Orange); Mentha Piperita (Peppermint)*; Citrus Aurantium Bergamia (Bergaptene-free Bergamot)*; Non-GMO Soy lecithin*+; Non-GMO Vitamin E*+.