Pretty, full, lush lashes are a sexy trademark for any women to strut. However, many of us are not born with a gorgeous wink. Or if we are, over time lashes become brittle, thin, and lifeless. Many treatment serums have been introduced into retail for a costly price with a side of harsh toxins that has many women having bad side effects to their eye health.
I've always had fairly good lashes; not overly thick, but good. In the recent years, I've become accustomed to curling my eyelashes with eyelash curler before AND after applying mascara (that's a complete no, no!) for an amplified and lifted affect that would last me all day! It did work, by the way, for a price of lifeless, poor lashes. You're supposed to only curl lashes before mascara application because curling them after can result in pulling of eyelashes, due to the stickiness of mascara unto the eyelash curler.
A few months went by and I started noticing my eyelashes becoming thin and brittle. I was actually a bit in a panic and tried to experiment with some natural DIY remedies. I've tried various oils that I researched for hair growth, but nothing compared when I stumbled upon a recipe that I mixed from researching which natural oils are best for hair growth. Within a month, my lashes grew to the exact same length and thickness the way they were before I started curling my lashes after the mascara application. With the results I'm seeing, I'm sure in short due time, I will rock beautiful, full, feathery lashes!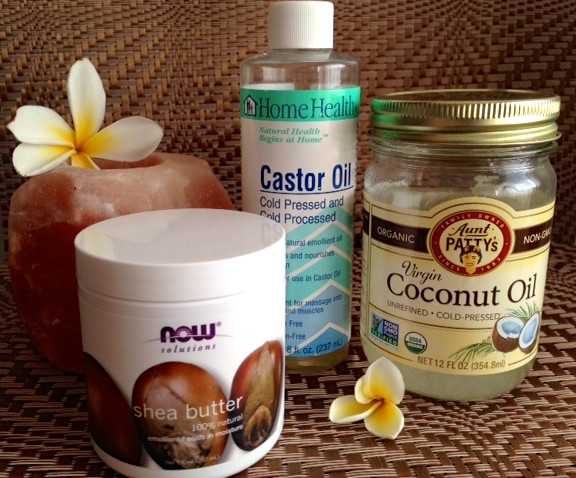 Recipe for a natural, organic DIY lash serum
1 tbsp. organic, unrefined coconut oil
1 oz. glass dropper bottle or small jar container (glass or plastic approx. 0.25 to 0.50 oz.) with a lid
Preparation
Mix all 3 above ingredients in a small bowl until smooth consistency. Shea butter is fairly thick; therefore, please be patient when mixing. Transfer the liquid into a small jar container and seal with a lid. Also, please note, the mixture of the oils can be transferred to a glass bottle w/ a dropper versus a jar type; however, coconut oil and shea butter may harden during cold/ cool weather months and sometimes become difficult to use with a bottle that has a dropper. Store in a dark, cool place.
How to Use
Shake bottle before use. Apply the lash serum 1X a day in the evening. Apply with a cotton swab to the upper lash line and lower lash line if you wish. If you get a little bit of the oil in the eyes, do not worry, it will not sting. The serum can also be used for the brows, if you're experiencing thinning there as well. I saw visible results in healthier lashes in approximately three weeks.
Background on benefits of the oils-
Castor oil – Castor oil is the #1 recommendation for lash and hair growth because it ables to improve skin blood circulation, which allows the skin to get more oxygen and nutrients resulting in faster and healthier hair growth.
Coconut oil – Coconut oil is rich in anti-oxidants, which boost the nutrients for speedier hair growth. Application of coconut oil moisturizes the hair follicles and the roots resulting in healthier effect for the hair. Please always purchase organic, unrefined, and non-gmo for full maximum benefits.
Shea butter – Shea butter has been used as a natural remedy for many years in other countries to grow beautiful, thick hair from the scalp. It has amazing properties of vitamin A and E that help to rebuild elasticity and moisture of the 'new' growing hair.
Cheers to your new happy, healthy, and beautiful lashes!
**All items may be purchased here from Amazon.com for a quick and easy process.
Share your comments below if you've tried this DIY recipe and the results you've been experiencing!