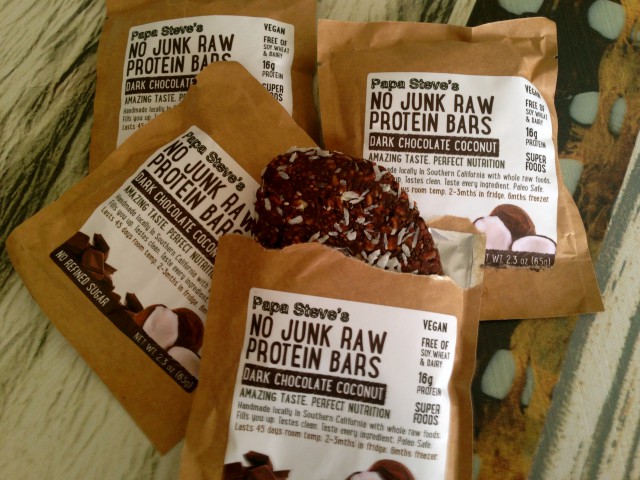 Recently, I've decided to try out some gluten-free protein bars for my breakfast on the go and afternoon snack. Many brands are coming out with gluten-free, vegan, paleo, no sugar added, etc., varieties. Which one's actually taste good and keep you full for a couple of hours? I think that's what most of us want from a protein bar? Am I right? The problem with most protein bars out there is that they are loaded with high sugar content and aren't as good for you as the label makes it sound. Always READ ingredient labels! Otherwise, you'll be wondering why you're crashing in the middle of the day as opposed to having an energy boost. 
Papa Steve's no Junk Raw Protein Bars taste great and don't have the added junk that so many other protein bars contain. All ingredients in each variety are organic, nutritious, gluten & soy free, and paleo friendly! They are unprocessed and uncooked (raw) for a highly nutritious snack, post workout or quick meal on the go. Prior to trying this brand, I was consistently purchasing the GoMacro bars, which taste great but not up to par with the nutritious content of ingredients from Papa Steve's.
11 flavors to choose from – 6 vegan; 5 whey. Only whole ingredients are used and bars are sweetened with dates for low glycemic content. No processed brown rice syrup or cane sugar ever used.
My fave flavor (pictured) is the dark chocolate with coconut. It definitely fills me up for a couple of hours with the yummy raw cocoa, pumpkin, hemp & chia seeds for protein – sweetened with dates. Whether eaten as a high protein raw snack or a meal replacement, you never have to feel guilty eating a brownie again!
100% RAW VEGAN INGREDIENTS:
Raw Organic Coconut, Organic Dates, Pea Protein, Raw Hemp Seeds, 100% Organic Certified Raw Cacao, Raw Pumpkin Seeds, Tapioca Fiber, Chia Seeds, Organic Coconut Oil, Organic Coconut Palm Nectar, Organic Vanilla Bean.
Next flavors on my list to try: Banana Oat Dark Chocolate Chip, Cranberry Almond, and Wild Blueberry Almond.
The bars come packaged in thick paper wrapper – not plastic. They are actually handmade individually before they ship out when one purchases from their website. I keep mine in the fridge – they last for 60 days. 45 days in room temperature (don't recommend due to the oils of the natural ingredients may leak out). They can also be placed in the freezer for 6 months. They are sold in a pack of 10, based on the flavor.
So, if you're currently looking to switch up some flavors of your current protein bars and are tired of not finding a healthier alternative, then give Papa Steve's a try. With 11 flavors – you may just get hooked. Find them here.
Have you tried Papa Steve's no Junk bars?
* 20 g Protein + Amazing Taste
* Handmade Fresh Weekly in California 
* No Preservatives or Added Sugars 

* Taste Every Ingredient 
* Raw Superfoods 
* Last 45 Days Room Temp, 60 in fridge
* No GMO, Corn, Soy, Wheat, or Gluten