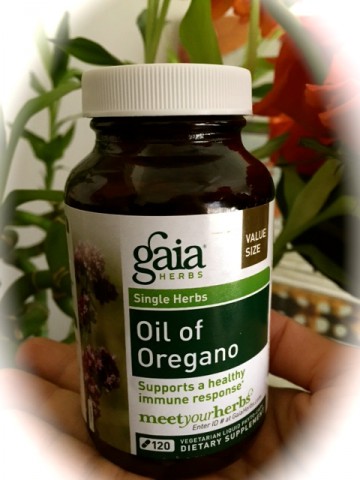 Oregano is a medicinal plant that has properties for antiviral, anti-fungal and antibacterial purposes. In ancient Babylon and Greece, oregano was used to treat wounds, poisonous bites, heart disease, and even lung disease.
The biggest breakthrough in oil of oregano is that it treats various health issues: skin conditions such as acne, fight off the yearly cold and flue, provides oral care, and used as a disinfectant.
ACNE
I've been taking oil of oregano in capsules for the last two years (with turmeric supplements, which are also crucial for clear skin – helps detox the liver of toxins– review here) and seen my skin improve drastically with combination of oregano + turmeric supplements. Since oil of oregano is nature's antibiotic, it inhibits growth of bacteria internally, which is the exact same reason why dermatologists prescribe various antibiotic prescriptions to acne sufferers. However, oil of oregano is 100% natural; therefore, it will not have any adverse side effects that prescription antibiotics from a doctor will. Its strength is in its phenols, phytochemicals and flavonoids that are plant based and not chemically synthesized substances.
Oregano oil is one of the most powerful natural antibiotics that has the ability to kill off infection. Oil of oregano is also able to kill the parasite externally where infection sets and within the human body.
Suggested use: 1-2 capsule(s) of oil of oregano daily. You may take a few months off after symptoms of acne subside, then add again into routine.
Oil of oregano may also be used topically on the skin to relieve acne, thanks to anti-inflammatory properties reducing swelling and redness of irritated skin. It is also antimicrobial, which makes it effective for infected skin.
Suggested use: Place three drops of oregano oil into 6 oz. of purified water to make a tonic. Shake well before use. Apply (2X a day) to clean cotton round and apply to the face. Follow by your usual serum, moisturizer and/ or SPF.
COLDS
Oregano oil contains a substance called carvacrol, which is effective in killing bacteria and helping the immune system to fight viruses, fungi and parasites.
Oil of oregano may be used at first signs of a cold. Just apply 4-6 drops of oil into a hot herbal tea or water and drink 2-3 times per day until symptoms subside. Because of the antiviral and antimicrobial properties, oil of oregano provides relief to the throat and manages to boost the immune system with the powerful antioxidants.
Oregano oil can be added (a few drops) in the humidifier, it can also be used for inhalation for colds.
FOOD POISONING
The digestive tract is one of the most important systems of our body. Thanks to the antibacterial, antifungal, and antioxidant properties, oil of oregano prevents disintegration (decay) of food in the stomach. Take 1 capsule (100 percent pure oil of oregano) every few hours – up to 4 or 5 times per day until symptoms subside.  It treats food poisoning by killing off the bacteria in the intestinal tract through the carvacrol and thymol compounds. However, oil of oregano must be taken at the first symptoms of food poisoning; otherwise it may be too late.
ORAL CARE
Oregano oil contains a substance under the name, thymol. Thymol is used in various personal care products, especially in the care of an oral cavities. Thymol kills bacteria, helps fight plaque, and fight off unpleasant odor from the mouth. Due to the presence of this substance (thymol), oregano oil can be used for cleaning teeth. Oregano oil is highly concentrated; therefore, it should be applied in very small quantities. To brush your teeth – you will need to add 1-2 drops of oil of oregano on top of toothpaste on the brush.
NATURAL HAND SANITIZER
Among other uses of oil of oregano, it can also be successfully used for preparation of a natural hand sanitizer. This natural remedy for hands will be particularly important during the flu season. To make it – mix 2 tablespoons coconut oil + 10 cap. Oregano oil. Mix thoroughly. Apply to the skin. This natural disinfectant is also particularly suited for use in the winter, because our skin needs additional moisture during those months.
OTHER BENEFITS
Oregano oil contains large amounts of nutrients. This medicated oil is also rich in essential minerals (magnesium, zinc, etc.) and vitamins.
Studies have shown that the use of oregano oil for 6 weeks leads to cleanse of the body. Using oregano oil is also helpful for the prevention of pests. Oregano oil successfully fights against tapeworms (worms, tapeworm), lice, fleas, mosquitoes and insects.
Due to the fact that oregano oil has a beneficial effect on a wide range of problems, it is desirable to always keep in the medicine cabinet. Oil of oregano helps with bladder problems, bleeding, heart failure, headaches, stomach pain, intestinal infections, toothaches, etc. Some sources claim that oil of oregano is able to kill salmonella and E. coli.
Contraindications: pregnant and lactating women are strictly forbidden to use oil of oregano!
Purchase Oil of Oregano here for discounted rate.
Have you tried oil of oregano for medicinal benefits?